Inertial Electrostatic Confinement Group
Special Fund-Raising Page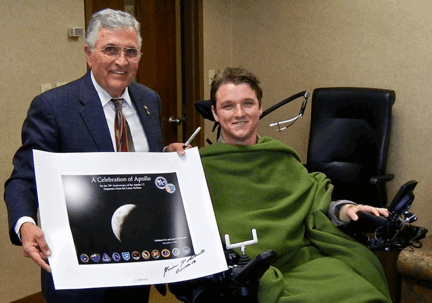 Apollo 17 Moon mission astronaut, U.S. Senator, and Geologist Dr. Harrison "Jack" Schmitt presents a poster commemorating the 30th Anniversary of Apollo 17 to Craig Schuff
Photo taken in September, 2011, Engineering Research Building, the University of Wisconsin -- Madison
---
Current Campaign Goal: $30,000 to defray the cost of laboratory expansion and incremental costs associated with accommodating Craig's injury, and possibly to contribute to his stipend.
Amount raised: $1,020.98 in excess of prior equipment campaign goal; $28,979 to go!
Individuals and foundation managers who are willing to donate to this campaign, please see the Project Summary, below, for a description of the campaign and instructions regarding donations to the UW Foundation for this project.


Funds Raised as of 9 September 2013 in prior campaign:
Via GoFundMe & FirstGiving: $14,411.00 - 9.25% (processing fees) = $13,077.98
Direct to UW Foundation: $12,943.00
Total: $26,020.98
GoFundMe Equipment Campaign Goal: $25,000.00
Goal met! Thanks to all who contributed to this!


---
Project Summary (prior campaign):
We are seeking funds to help a quadriplegic student to finish his Ph.D. dissertation in Nuclear Engineering at the University of Wisconsin-Madison. Mr. Craig Schuff (see photo, above) was suddenly made quadriplegic by a freak accident in May 2011. At the time of the accident he possessed a B.S. degree in Electrical Engineering and was pursuing graduate work in the College of Engineering. He had begun construction of a device designed to generate neutrons that would be used to detect clandestine materials (explosives, IED's, smuggled nuclear material, drugs, etc.).
It took Craig a year to get his life back in order and he recently (11/2012) passed the oral exam for his Masters Degree in Nuclear Engineering. He is now trying to finish his experimental work for his PhD.
He is being assisted by an undergraduate Nuclear Engineering student who is working under his supervision to complete the construction of the device he designed and had partially built before the accident. One of the impediments to the operation of the device is the purchase of a turbo-pump capable of providing the vacuum needed to allow the fusion of deuterium ions that produce the neutrons needed for identification of the clandestine material. The estimated cost for the pump and associated equipment and other supplies needed to complete his work is US$25,000. Once the pump is in place and the system is operational, it is estimated that Craig will need 6 months to take data and another 6 months to write his doctoral dissertation (by voice-activated computer interface) and defend his work. His ultimate goal is to contribute to the defense of the Nation either at a national laboratory or in an industrial setting.
Money donated through this page will go to the Fusion Feasibility Fund at the University of Wisconsin Foundation in Madison, WI. Donations are deductible from income for tax purposes. They will be first applied to meet Craig's laboratory needs. If we raise funds in excess of those through our fundraising efforts, we will apply them to supporting the undergraduate student assisting Craig. If there are any funds collected in excess of that, they will be applied to the experimental needs of other students in the laboratory, and, thereafter, to other needs of the group.
Project Summary (current campaign):
Our very cramped laboratory is in the process of expanding. This unforeseen opportunity arose in the Fall of 2012, and is now being realized. The timing of this opportunity is providential, in that not only will it provide our graduate students and staff with much relief from working in a very small area, it will also allow Craig to more closely supervise the installation and operation of his experimental apparatus some months hence. (It would have been virtually impossible for him to maneuver his wheel chair in the unexpanded space.)
The expansion project is moving forward, thanks to the labor of the students and staff of our research group. However, this opportunity does come at a literal cost, and presents a financial burdeon on our research funds that was not anticipated. We anticipate a "shortfall" of approximately US$30,000, and are seeking to raise the additional funds from foundations and private giving.
Potential donors requiring more information are welcome to contact me for additional information. Via e-mail: bonomoXXX(at)engrYYY.wiscZZZ.edu (drop the capitals), telephone: (608) 265-3098.
How to donate:
To donate electronically, you may to click on this link to a College of Engineering page at the University of Wisconsin Foundation. This is the preferred method for this second campaign.
You may also donate electronically through this page link at the crowd-funding website GoFundMe.com.
To donate via U.S. Mail or via express delivery service, checks, made out to the "University of Wisconsin Foundation" (or the "UW Foundation") may be sent to:
Fusion Feasibility Fund
Unversity of Wisconsin Foundation
1848 University Avenue
Madison, WI 53726-4090
Be sure to put "Fusion Feasibility Fund" in the check memo.
Thank you for your support!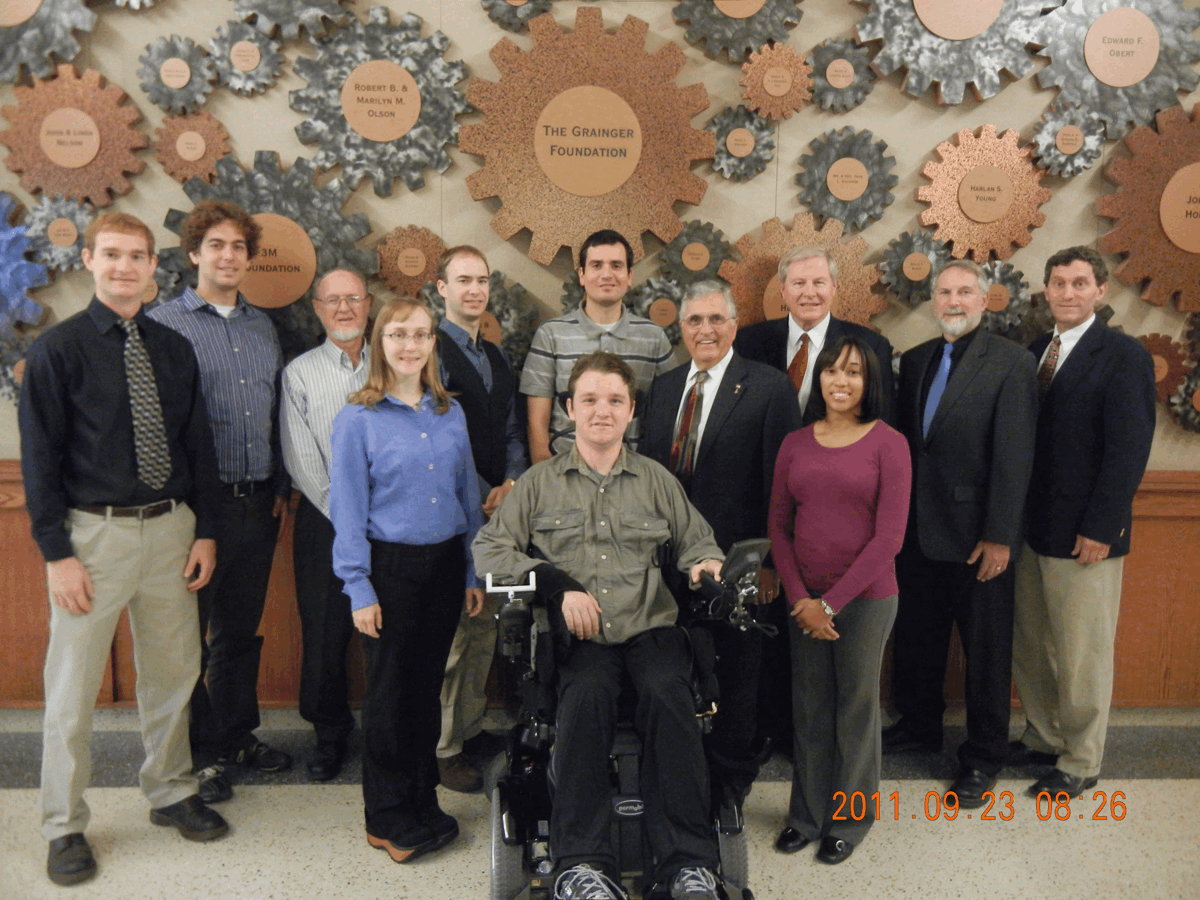 The IEC Research Group as of October 2011
Left to right:Matt Michalak, Aaron McEvoy, Gil Emmert, Lauren Garrison, Eric Alderson, Craig Schuff (in front), Gabriel Becerra, Harrison "Jack" Schmitt, Gerald Kulcinski (Director), Karla Hall, John Santarius, Richard Bonomo